We arrived in Valparaiso after a mere 26 hours of travel– 24 hours on a bus from San Pedro to Santiago (one disadvantage to our "avoid excess planning approach is that flights tend to be prohibitively expensive at the last minute) and then another 2 or so on a bus from Santiago to Valparaiso.  Naturally when we arrived in the city, we immediately hopped on another bus to get to our place.  After careening across the city's famous hillsides, we were relieved to arrive safely in Cerro Alegre, one of the most picturesque areas in the city and more importantly at that moment, the location of our hostel.  Initially we had eyes only for the shower, but afterwards we were able to appreciate our breezy, light-filled room and terrace with an incredible view of the hillsides and the port.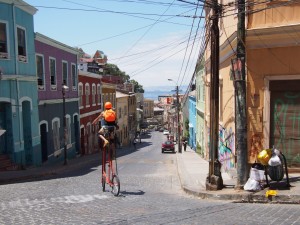 Ask a few Chileans or foreign travelers about their thoughts on the city and you are likely to elicit wildly inconsistent responses: beautiful, filthy, touristy, dangerous, fairytale, falling-apart, and so on.  We heard all of these before arriving.  We were amused to find that among Chileans, people were often either "team Valpo" or "team Viña" (del Mar, a beach resort and much more conventional city right next door).  Likewise, those from Santiago tended to use adjectives like gritty, and unsafe while describing Valparaiso (and Valparaiso natives responded by calling the capital hot, crowded, and overwhelming).  Some were completely astounded that we intended to spend a week there (more than twice our time in Santiago).
The non-consensus we'd heard turned out to be correct– the city is a complete study in contrasts.  It's beautiful–colorful buildings stacked up on hillsides, cobblestone streets, coastal views– and deserves its status as an UNESCO World Heritage Site.  It's also sort of a mess– for example many of those colorful old buildings are falling down due to termites, earthquake damage, and neglect.  In Clueless terms (is there any better way to interpret the world?), some parts of the city could be considered "a full-on Monet" (in other words, "from far away it's okay, but up close its a big old mess").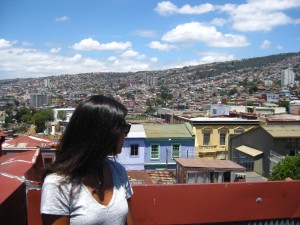 We loved it.  After relaxing mornings on the terrace, we thoroughly explored the winding cobblestone streets of Cerro Alegre and the neighboring Cerro Concepción–"cerro" means "hill," and the city has 42 distinct hillside neighborhoods, with Concepción and Alegre being two of the oldest and most well-preserved.  We wandered halfway across town to La Sebastiana, a house of Pablo Neruda's that has been turned into a museum, like La Chascona in Santiago.  La Sebastiana was a little more ordinary and preferred the wacky details of La Chascona (secret passageways and the like) but it's hard to beat the Valparaiso view.  We explored the port area, having a long Sunday seafood lunch with plenty of cheap red wine and Chileans glued to the soccer games on in every corner.  We took a walking tour with a local expert and must have covered 8-10 miles of steep inclines on that day alone.  We took advantage of the city's famous acensores (or funiculars)– cable cars cut into the steep hillsides to make the city slightly more walkable.  We took in the crazy street art, which is deserving of its own post.
We also had the opportunity to meet up with two Chilean friends that we met in San Pedro.  Claudia, a Valparaiso native, drove us around the entire city and took us to a local bar for a terremoto pitcher (meaning "earthquake," from the unsteady legs it tends to cause)– not exactly a cocktail, but certainly a famous Chilean drink, consisting of a fortified wine called pipeño, a little fernet, and pineapple ice cream.  A few days later, after a beach day in Viña, we met up with Alejandra and her friend Jose for pisco sours and chorrillana, another local favorite made of french fries, fried eggs, and a few types of meat– in this case, braised beef and chorizo.  Good thing we did all that walking…