Because of the limited number of permits issued, we booked our Inca Trail excursion several months ago.  As a result, we've had a long time to look forward to it, and were lucky enough to be joined by friends from San Francisco!  Matt and Ashley fortunately had vacation days that lined up well with the trek, and they met us in Cusco on April 4.  After a few days of exploring there (and one major misadventure when Ashley stepped in a gaping hole on a Cusco street and hurt her knee), the four-day Inca Trail adventure started bright and early on April 6.
Alpaca Expeditions collected us from our hotel at 4 a.m. and we spent several hours in a van heading through the Sacred Valley.  We were lucky enough to have a great group of fun, younger hikers:  two Chilean couples, two Chilean brothers, one Irish guy, and another American.  As required, our tents, food and the like were carried by porters– ours, nicknamed the "Green Machine" and outfitted accordingly, were incredibly speedy.  Each day they would clean up the campsite after we started hiking with our guides, Issac and Juan Carlos.  Then they would pass us (handily) on the trail in time to set up lunch.  They would do the same thing in the evening, so that by the time we arrived our individual tents were set up, snacks were waiting, and dinner was soon to follow.  Squat toilets notwithstanding, this was the Peruvian version of glamping for sure.
Day 1 of hiking was the easiest.  We started the 14 km hike just after an alfresco breakfast, passed a few villages and archaeological sites, and finished well before dinner.  The four of us squeezed in a few hands of euchre before calling it a night.  We were lucky enough to be settled into our tents before it started to rain.  Ashley's knee was hurting (and swollen, and bruised), but fortunately she's some kind of superhuman Minnesotan warrior, so she persevered.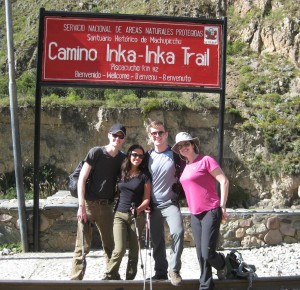 Day 2 of hiking is universally considered to be the most difficult.  It's all about making the steep ascent and descent to and from Abra de Warmiwañusca, or Dead Woman's Pass– so named because of the silhouette of a woman in repose created by the peak.  The morning was warm and sunny and increasingly steep, and by the time we reached the summit at 4200 meters, we were surrounded by clouds and crazy winds (our guide asked us to move to the sunny side for fear that we would catch colds because our "pores were open from the hike."  Just glad my dad wasn't there to hear that).  We were generally quite pleased about reaching the top, but unfortunately Ashley was starting to suffer from altitude sickness (along with the still very injured knee).  She took it very slow on the steep descent, and we called it quits a bit earlier than planned that night.  Fortunately, the rest of the group was adaptable, and actually we lucked out– not long after we stopped, it started to pour again, and the steep hike up to the second pass would have been much tougher in those conditions.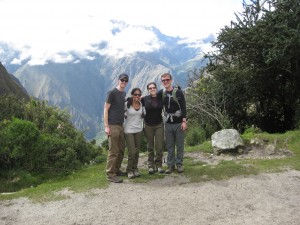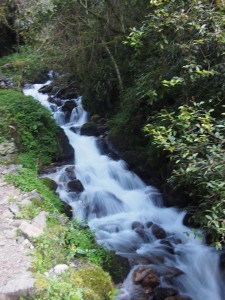 We got up extra early on Day 3 to make up for our slightly early stop on the previous day. Fortunately, Ashley felt much better after the night's rest and was back in full warrior princess mode, going at her own pace and accompanied by her new best friend, our guide Juan Carlos.  We tackled the slightly less steep climb to another mountain pass, visited three sets of ruins, and still made it to our final campsite before dark.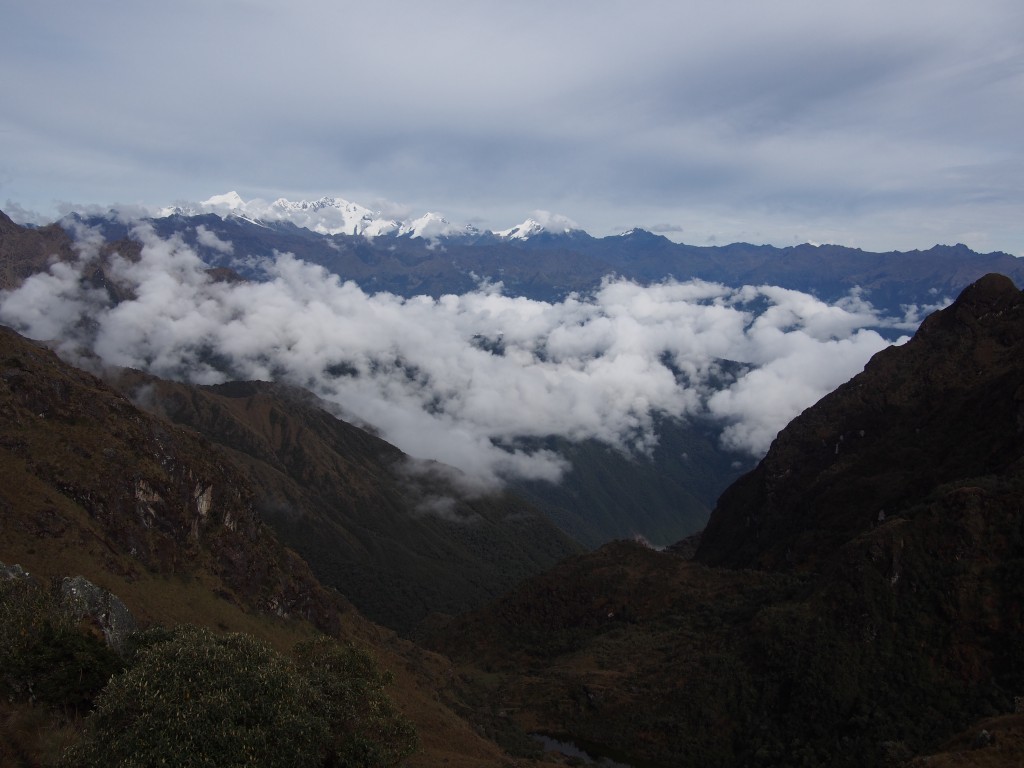 We had a painful wakeup at 3:30 a.m. on Day 4.  Headlamps came in handy for our final breakfast, while the porters rushed around to pack up camp and make the early train back to civilization.  It was a short hike for the rest of us to the checkpoint to enter Machu Picchu, but we had to wait in line for a while until the gates opened.  We passed the time with a few sleepy rounds of Catchphrase and witnessed a phenomenal sunrise.  After the gates opened, we clambered up a nearly vertical set of "stairs" leading to the final pass at Inti Punku, the Sun Gate, where we could see all of Machu Picchu spread out below us.
Our guide Isaac took us on a tour of the key spots within Macchu Picchu.  It's an extremly impressive place, even overrun with tourists (most of whom come for the day by train… wimps). Although we could have wandered around for much longer, we had purchased the additional ticket to climb Huayna Picchu and had to be ready to go at 10 a.m.  It was a brutal realization after 3+ days of hiking when we discovered that Huayna Picchu was the much higher of the two mountains looming over Machu Picchu.  Ashley wisely opted out because of her knee while Brian, Matt and I talked each other into making the climb.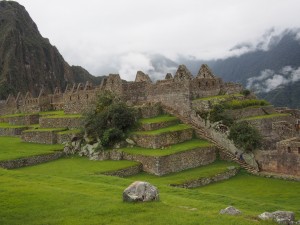 A few Inca Trail tips, in case you're thinking of going:
Book early!  To preserve the trail, only 200 permits are issued for hikers every day.  It's worth trying to go during a dryer time of year, as the experience would be very different in the pouring rain.  March is supposed to be quite rainy (as is February, but the trail is closed then).  We got lucky with our early April trip, as it only really rained at night.
Pay a bit more for a well-reviewed company.  We were very happy with Alpaca Expeditions.  It's Peruvian-owned and has a reputation for treating its porters better than many of the other companies making the trek.  While we can't vouch for this first hand, our group did seem to be much better equipped (sturdy shoes and the like) than most others we saw.  They also provide porters to carry 7 kg for each hiker, which meant that we only needed to bring day packs with water, cameras, and a few layers.  We passed other hikers schlepping large packs with sleeping bags and probably way too much clothing.  While I readily acknowledge that they were tougher than me, they also seemed much less comfortable (not to mention slower).  Our guides spoke pretty good English and seemed committed to getting the whole group to Machu Picchu safe and sound.  They also called us champions constantly, which didn't hurt.
Decent hiking shoes are a good idea (lots of loose stones) but not a must.  Many people in our group did the hike in sneakers without any problems.  If it had rained more, waterproof boots might have been particularly valuable.
Although Brian put a pretty severe dent in the snacks that Ashley and Matt brought, at least with Alpaca Expeditions extra provisions were unnecessary.  Every time I turned around we were given a snack or a multi-course meal– particularly impressive considering where we were.