On April 3rd we set out from Puno (on the Peruvian side of Lake Titicaca) to Cusco by bus.  Our intrepid traveling companions, Matt and Ashley, weren't arriving to Cusco until the following day, so we spent the 3rd catching up with laundry, emails and the like.
I wasn't sure what to expect from Cusco but, as we started exploring, I was pleasantly surprised by its beauty.  The center of the city is made up of cobblestone streets, lined with colonial style buildings.  And, being well preserved from the days of Spanish rule, it had its share of beautiful town squares and cathedrals.   
After Matt and Ashley arrived on the 4th, we hit the tourist trail. We started with the main cathedral in the Plaza de Armas (picture below).  The next stop was dinner at Cicciolina.
We spent a fair amount of time in Cusco– a total of 5 nights before and after the Inca Trail. In that time we also explored the huge local food market (so many pigs' heads), lots of little shops, museums and many great restaurants.
One of our favorite sites was the ChocoMuseo where we participated in a "beans to bar" chocolate-making course.  As it turns out, Peru makes amazing chocolate.  We learned about the process from the plant to what we buy in the store.  It culminated in each participant making chocolates, which fed my chocolate addiction for the next few weeks.  Chocolate making tip: be careful when adding sea salt to melted chocolate– it tends to clump making some bites way too salty while leaving others without a trace of that oh-so-good salt flavor. Who knew…
Unfortunately, on the way to the ChocoMuseo Ashley fell into a large hole in the sidewalk.  The details aren't important, except for, from what I understand, it was all Matt's fault.  While her knee looked incredibly painful, she somehow persevered and went on to hike the Inca Trail.  Mad respect.
Other highlights from our time in Cusco included the Museo de Arte Precolombino, which houses an incredible collection of pottery, silver and gold decorative pieces, and other such beautiful museum worthy things.
Now, fast-forward to April 9th (post Inca Trail hike), we all spent a few days in the town of Urubamba, in Peru's Sacred Valley.  After a surreal situation in which our cab driver couldn't find our hotel and became so fixated on the street name that he neglected to ask passerby about the place by name or neighborhood (instead just repeating "Manzanapata? Calle Manzanapata?" over and over again until we took matters into our own hands and asked a wise older lady), we took some truly welcome showers.  Matt and Ashley got a room at the super fancy Tambo del Inka. While our hotel was perfectly pleasant (Hosteria Illarimuy), it couldn't compete with the Tambo.  So, Rachel and I naturally mooched off of Matt and Ashley to get access to their pool and terrace situation.  Incidentally, Ashley and Rachel enjoyed a nice if unintentional couples' massage, which was made all the better by the fact that the hotel thought they were actually a couple.
One of the highlights of Urubamba was dinner at Tres Keros.  The food was awesome, but the best part was the owner who spent his time socializing with the various tables and cutting loose with his wide variety of specialty Peruvian drinks.
On the way back to Cusco from Urubamba we stopped at Pisac ruins, which are yet more Inca ruins.  (While the Inca Empire only ruled for about 120 years, they were apparently super prolific… so much so that, by the time we saw the Pisac (totally worth it), I was a little ruined out.)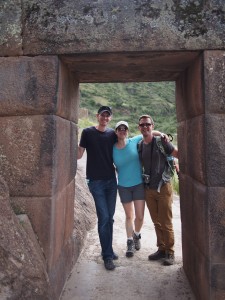 We said a sad goodbye to Matt and Ashley on April 12 (after the mens' team proved its dominance at Euchre pretty definitively). They headed back to real life in San Francisco and we left the next day for Lima.