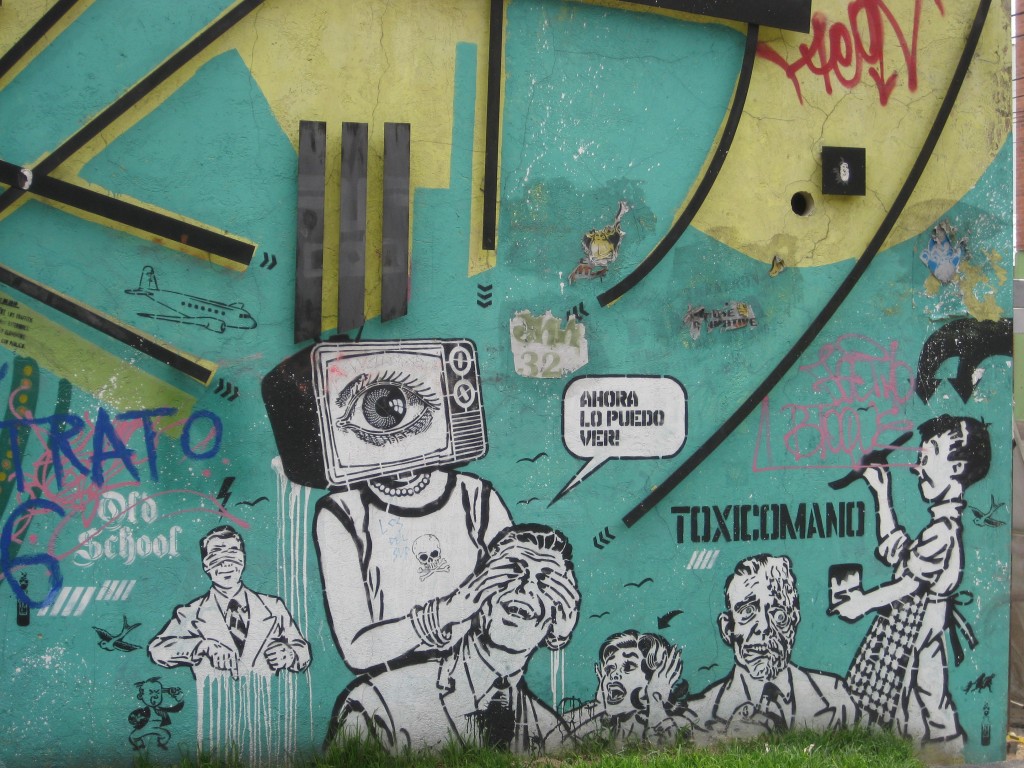 On the morning of May 13th we flew from Cartagena to Bogota.  After the incredible heat of the Caribbean coast, Bogota's cool mountain climate was a welcome change.  A few months ago Rachel planned a brief return trip to the US, so she only had a few days in the city.  While she made her return visit, I stayed to take more Spanish lessons and soak up a last bit of South America time.  We started out at Casa Guadalupe, a nice guesthouse in the Candelaria neighborhood, close to most major tourist attractions.  As usual, after we checked in, we set out to find food.  Rachel's research led us to a hole in the wall called La Puerta Falsa (the false door).  We each ordered a delicious tamale and the hot chocolate from the tiny menu.  The hot chocolate came with bread and several types of cheese, which the locals like to mix together– I guess it's a sweet and savory kind of thing.  Not bad, but not a necessary innovation.
The next day, we set out to do something a bit different: a street art tour of the Candelaria and the surrounding neighborhoods.  The tour was led by an Australian street artist who has been in Bogota since the early 2000s.  As he explained it, the scene in Bogota is so vibrant because it's largely decriminalized– you can occasionally be ticketed for it, but that's the worst it gets.  That environment, mixed with political controversies of the past few decades, has created some of the best street art I've ever seen.  This included everything from murals to graffiti-style tagging.  It turned out to be a really fun experience and a great way to explore the neighborhood.  It was also a great context in which to hear about sociopolitical issues in Colombia.
On the 14th we had a more traditional tourist day.  We visited the Museo Botero and the Museo del Oro (Gold Museum).  We talked about Botero in the Medellin post, and felt like experienced Colombian art fans when we encountered him again.  The Museo Botero had a good mix of other artists as well, including a small exhibition of impressionists which I enjoyed.  The Museo del Oro, while very well done, was officially the breaking point for me and Rachel when it comes to pre-Colombian artifacts.  After visiting museums with similar themes throughout South America, all the various pottery, metal work, stone work, etc. have blurred together.  Luckily I think museums in Turkey and southeast Asia have different themes.  On the 15th Rachel left for the US and I went to Spanish class.  Over the next week I generally split my time between learning things and getting lost on the city's public transportation, Transmilenio.
While my adventures can't compete with Rachel's adventures with Henry, I tried to explore Bogota on my own.  First of all, people react very differently to me traveling alone than they do with me traveling with Rachel.  Suffice it to say, traveling with Rachel is better. In an effort to get out of my neighborhood I spent most afternoons post-class exploring different areas of the city.  My lessons were held in the Chapanero neighborhood which is an interesting mix of middle class, financial district and fancy boutiques and houses.  My school organized twice weekly activities to different attractions in the city.  I was there for a week so I enjoyed two outings.  The first activity explored the neighborhood Rafael Uribe which is a working class shopping district.  It's also where Bogota's leather factories are located and a place where you can pick up very nice and very inexpensive leather goods before they make their way to the more expensive shops in the north.  On my second organized outing, we went to Mount Monserrate.  Bogota sits at 8,612 feet above sea level, and Mount Monserrate towers above the city at 10,341 feet.  One can reach the summit by hiking or by tram.  The mountain is both a pilgrimage and tourist destination– on top is a church and shrine from the 17th century.  Along with the great view and the church, the summit also boasts one of Bogota's most romantic restaurants, which, according to my guide, is the place to propose.
Brian's tips for Bogota:
Politely let down the nice man in the Candelaria who offers you cocaine each morning (and forgive him for forgetting your conversation on the previous morning).
Go for a jog in Parque Simon Bolivar.  It's a huge green space seemingly created exclusively for walkers and joggers.
For a break from Colombian food, try the pasta at Trottoria Norague.  For a nice cafe in the Candelaria, try De Uno.  For an amazing lunch go to Sant Just.  For an amazing dinner, go to Matiz.
If you're in the market for emeralds, shop in Cartagena.  There's little variety in Bogota.  Leather goods are a different story.