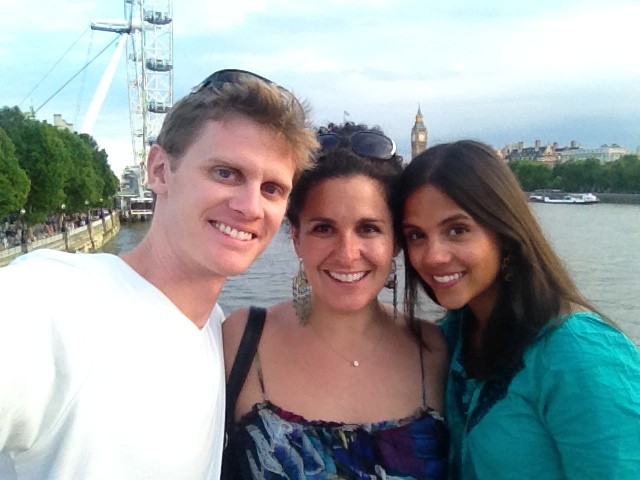 One of my best friends and roommates from college (or "Uni," as she now says), spent years after graduation living in Quito, Ecuador… where we never managed to visit her.  Gina relocated to London to attend LSE long before we made our Quito trip earlier this year.  Oops.  Our plans for the trip have been very fluid, but we were generally agreed on not going to places we'd already been, and essentially avoiding pricey Western Europe.  Even those plans were made to be broken, as it would be crazy to spend a year traveling and not manage to drop in on our favorite ex-pat.  While in Turkey we snagged a very reasonable ticket to London (so many discount airlines = being spoiled for choice in that part of the world) and after saying goodbye to Istanbul and DJ bright and early (just early, actually… it was 4:30 a.m.) on the morning of June 19, we flew from Istanbul to Gatwick airport and took the train followed by the tube to Gina's apartment in Brixton.  After an appropriately giddy reunion (we hadn't seen her in two years!) and meeting Gina's boyfriend Chris, we walked to the first of many delicious London meals.  This one was in Brixton Market, which is full of tiny and delicious restaurants and food markets.  We probably should have had fish and chips or some other British specialty, but having left San Francisco last December, the lure of a good-looking Mexican place was impossible to resist.  I regret nothing.
We had a marvelous few days in London with Gina, Chris, and their friends.  We'd both spent time in the city before, which meant that we were comfortable skipping the usual tourist attractions (Tower of London, British Museum, Big Ben, etc.), which freed up time to do things with Gina that we enjoyed much more: catching up, lots of eating (much of it in adorable outdoor markets), a rousing game of rounders (sillier, more fun baseball) in the park followed by an amazing, enormous hidden beer garden, watching Chris's band play in a pub, more eating, a lovely afternoon in Greenwich and a ride back via the Thames (I didn't say no tourist attractions), a ramble through the street art in Shoreditch, a very Britain-centric pub quiz, and of course a bit of World Cup– cheering on Chile in vain against the Netherlands.
The weather and the company were perfect, and Gina generously loaned us her apartment so it wasn't even too painfully expensive.  (Still pricey, though– since it was just a few days, we decided it would be best to just pretend the prices are in dollars instead of pounds, enjoy ourselves, and contend with the bank statement later).  Time flew, and for the most part, we forgot to take photos.  Before we knew it, it was Tuesday, June 24, and time to say goodbye head off to yet another unexpected European destination: Crete.  See you next year, Beaners!