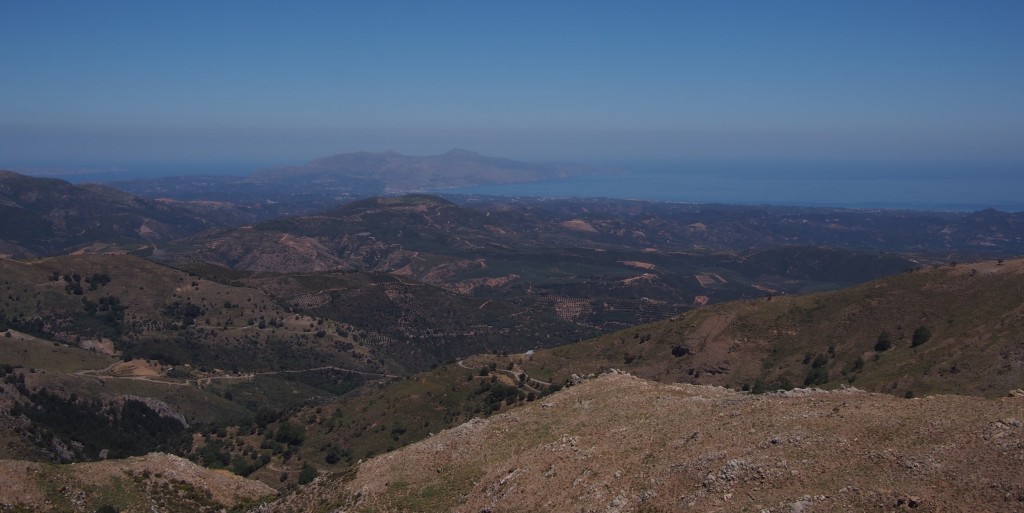 We decided to go to Crete on a whim, closely following on our spontaneous decision to visit Gina in London.  Since we'd already be somewhat close by, Greece, and Crete in particular, was a logical choice:  beautiful scenery, great beaches, delicious food and wine, and surprisingly reasonable prices.  In keeping with our slow travel goals, we allotted plenty of time to see lesser-known parts of the (surprisingly large) island, and got a great deal on a rental car to make that possible.
We left London on June 24.  Four modes of transport and many hours later, we made it to our a first stop in Crete:  We took the tube to a bus stop, the bus to the Stansted airport (a hub for low-cost airlines and thus totally chaotic), and flew to Chania, in Crete.  Then we picked up our rental car: tiny, aggressively yellow, and with a sticky gas pedal that resulted in some interesting experiences.  After that we spent a while driving around the countryside in the dark, somewhat lost, before finding our first hotel almost by chance.
Rather than trying to describe our 20 days in detail (as fun as that would be for us to write, and you to read), we decided to focus on the highlights.  Obviously highly subjective.  Naturally, beaches are first.
Crete's Best Beaches
We started our trip based in the tiny village of Pano Stalos, in the province of Chania, within view of the northwest coastline but pleasantly removed from the developed beach just down the hill.  Pano Stalos has two or three restaurants, one tiny market, and a very strategic location, not only for the beachside bars, restaurants and the like in Kato Stalos and nearby Agia Marina, but also for more remote and striking beaches along the island's western coast.
We tested out Old Yeller's 4×4 capacity on the long and bumpy road to Balos beach, which also required a lengthy hike down a hillside upon arrival– not really challenging except for the heat.  When we arrived, we found a sort of lagoon, with clear, shallow water and lots of frolicking families.  We picked up few beers at a tiny kiosk, rented some chairs and an umbrella, and took in the scene until nearly sunset, when it was time to scramble back up the hill and brave the long drive home.
Two days later, after a day in Chania town, we were back on the hunt. We first headed out to one of the island's most famous beaches, Elafonisi, in the southwest corner of the island. It required a slow and winding drive through the gorgeous countryside.  Luckily, by this point, Brian was a bit more comfortable with the whole sticky pedal situation.  Elafonisi is famous for its slightly pink sand, courtesy of the area's red coral or pink shells, depending on who you talk to. Its clear, calm water is deceptive– we decided to wade across what looked like a very shallow area to get to a nearly empty island of sand and ended up waist-deep, with half of our stuff soaked. Oops.
We left Elafonisi in the early afternoon to complete our western beach trifecta, heading north to Falassarna.  Although not as postcard-worthy as the first two, Falassarna was our favorite– it had waves!  Small ones, but still– what's a beach without a little surf?  A salty swimming pool.
After a few nights in Pano Stalos, we headed to Omalos, in the White Mountains. Beautiful, but not beachy. Moving right along, our next base was on the southern coast in the town of Chora Sfakion. We went to several beaches from there, and as usual, the exceptional one required a bit of effort.
There are two ways to get to Loutro– a long, warm hike, or a ferry ride. We opted for the latter.  The ferry leaves several times a day from Chora Sfakion, and before long we disembarked at the quintessential Greek island town, with white houses overlooking the clear blue sea.  The actual beach was fairly small and pebbly, but in a setting like this, it hardly mattered.  We had a long lazy beach day, ate seafood and drank house wine in a little seaside taverna, and eventually made it home again via ferry.
We visited more than a dozen Cretan beaches, including a number of very well known ones not listed here: Frangokastello, Sougia, Kato Zakros, Vai, and others. We didn't have a bad beach day, luckily– though really, its tough to have a bad beach day unless maybe it rains, the Kindle runs out of battery, or you're responsible for too many toddlers. Our last beach, though, was definitely our favorite–a good consolation prize when it was time to leave the island.
This is Seitan Limania (Devil's Harbor), a tiny hidden cove on Crete's north coast.  Getting there requires following a small asphalt road until it it runs out, continuing on a dirt road that makes a bunch of crazy switchbacks, sometimes opening a sheep gate, and finally hiking down a hillside when the road stops.  Despite the complicated route, the beach is not that far from Chania town and is well known to locals.  We were there on a Sunday and there were quite a few other people there as well.  I'm sure it would be more peaceful on a weekday.  There are no facilities at the bottom or anywhere nearby– just clear water (a theme, yes), rocks to jump off of, and a beautiful and sheltered spot.