As Rachel briefly mentioned in her street food post, we started off our adventures looking for a clinic at which she could have the cut on her foot examined.  The nice but not very helpful young man at our hotel gave us some very vague directions to a clinic about which he'd heard good things.  The directions were so vague, in fact, that we ended up wandering around for a few hours before finally catching a bus into George Town's Little India district to search out a place called The Pearl Klinic that Rachel found online.  It sounds sketchy but it turned out to be good (I found the waiting room top notch).
The primary thing I learned from our clinic chasing adventures is that Penang is damn hot and spread out, so we needed better means of transportation (also we needed a more reliable means of transportation because Rachel was under strict instructions to take it easy).  So, the following day, we rented a scooter.
For those parental figures who may be cringing right about now, I should say first that I was incredibly hesitant (i.e., it wasn't my idea), but it really wasn't that bad.  George Town is a medium sized city so there are traffic concerns; however, scooters outnumber cars to such a high degree that they own the road, so cars are very forgiving to scooters… particularly with tall white divers with a look of pure concentration (terror?) on their face which they can correctly identify as rookies.
Scooter accomplished, we were ready to take on Penang in an affordable, reasonably safe (I turned out to be a very cautious scooter driver– shocking, I know) and efficient manner.  A few highlights of our time follow.
George Town's street art
It's becoming somewhat of a theme on our trip to highlight the street art in certain places.  The George Town art was particularly nice because many of the main attractions incorporated objects with otherwise incomplete paintings.
None of the props ever seemed in danger of being stolen.  Sure, who really needs an extra chair and a motorbike needs a key, but that bicycle is just sitting there (Rachel points out that it was welded to the wall, but still).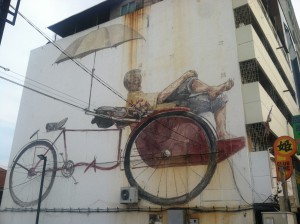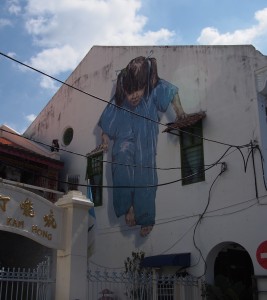 Everything pictured here is by an artist named Ernest Zacharevic and was made with the support of the local government.  There are lots of other pieces around, including an assortment of steel caricatures explaining points of historical interest in the city.
Temples
Part of the reason for the great food in Penang is the mix of different cultures.  Along with great Indian, Malaysian and Chinese food, that mix also gives Penang a number of beautiful religious sites to visit.  Our first stop was Wat Chayamangkalaram, a Thai Buddhist temple made famous by its reclining Buddha statue which is the world's third largest at 33 meters from head to toe. Surrounding the reclining Buddha are statues of Thai Buddhist deities.  You can make a small donation to the deity representing your birth year which Rachel of course insisted that we do… the investment has yet to pay off.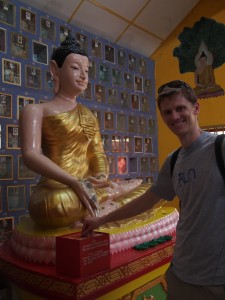 Our second stop, right across the street from Wat Chayamangkalaram was Dhammikarama, a Burmese Buddhist Temple.  The temple, built in 1803, was the first Burmese Buddhist temple in Malaysia.  It's a beautiful place, feeling more like a complex of gardens and buildings than a traditional temple.
Wandering Around Penang
Exploring the area, particularly George Town, on foot or by bike was one of my favorite activities.  A few highlights included: Little India in George Town where you can find everything you might in India including amazing India food and, as we found out, reasonably good medical care; the Clan Jetties which are houses built of stilts– each of the original 7 rows of houses stretching out into the bay was home to an extended family/clan of Chinese fishing families; the city's colonial architecture (often decaying); and extremely decked out rickshaws shuttling people around.
We also made it to a quirky little museum devoted to all things photographic.  Maybe it was the air-conditioned break from a hot day or the super nerdy/charming guy who gave us the free tour.  Recommended if you've got some time to kill in the city.
In some cases, it's more about the journey than the destination.  On a few of our days on the island we ventured out of George Town, driving north along the coast.  The road takes you past Batu Ferrenghi, a resorty area with a huge night market.  On one of those trips we made it to the center of the island and stopped at a much talked about butterfly farm.  I found it to be a little silly but good fun nonetheless.
Honorable Food Mention
Rachel's post covers food but I thought I'd mention a non-Malaysian sources of food joy for me.  Penang has some shockingly good and hilariously hipster cafes.  My favorite was a place called Mugshot where you can find a good bagel with lox and cream cheese, a damn good cup of coffee and, in the food truck/trailer situation outside, a pretty good burger.  It's funny what you crave after 8 months of travel.