After contending with our first (and so far sole… fingers crossed) roadtrip mishap, we left Kintamani and headed for Pura Besakih, Bali's Mother Temple.  It's Bali's largest and most important Hindu temple, and is actually a sprawling complex of buildings.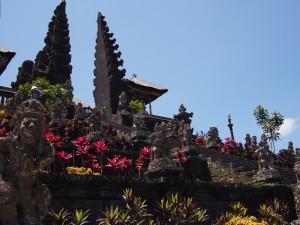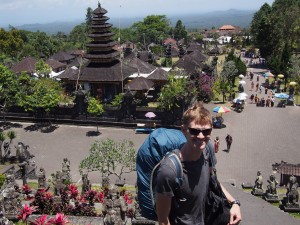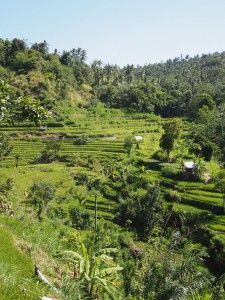 We checked out the temples and fended off the touts before climbing back on our bike to head back to the coast, this time to Amed. The drive there featured lush, rice-filled valleys, particularly the Sidemen region in eastern Bali. Amed is a collection of villages dotted along a series of pretty beaches. It offers some nice diving, snorkling, and a very relaxed atmosphere. It would be an easy place to hang out for a week or two.  We spent much less time there, but made the most of it.  After finding a hotel room, our first stop was at the excellent Adventure Divers.  We booked a pair of dives at the wreck of the USAT Liberty, probably the most famous dive site in Bali.
The pre-sunrise pickup wasn't thrilling, but we enjoyed heading into the water just as the day got started.  Only a short swim from shore, the wreck was suddenly looming over us in the still-dim water, and it was surrounded by a school of enormous, bizarre-looking bumphead parrotfish– evidently they shelter in the wreck at night.  It was also surrounded by other divers, many with huge cameras and all kinds of apparatus.  We enjoyed the dives– the wreck is huge and interesting, and hosts all kinds of corals, sponges and strange sea life– but not as much as reef diving, which at the spots we've chosen has been a much more peaceful affair.
After our dives, we spent the afternoon snorkeling just off the shore in Amed, which was also lovely: full of colorful corals and fish.  We resisted the temptation to book another day of diving at the reefs in the area, deciding instead to head back through the gorgeous Sidemen region to the Tirta Gangga water palace.  While not especially historic by Bali standards (it was built in the late 1940s by the Raja of Karangasem and later restored after a volcanic eruption), it's a beautiful, peaceful place–kind of a complex of fountains and gardens.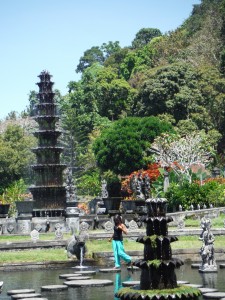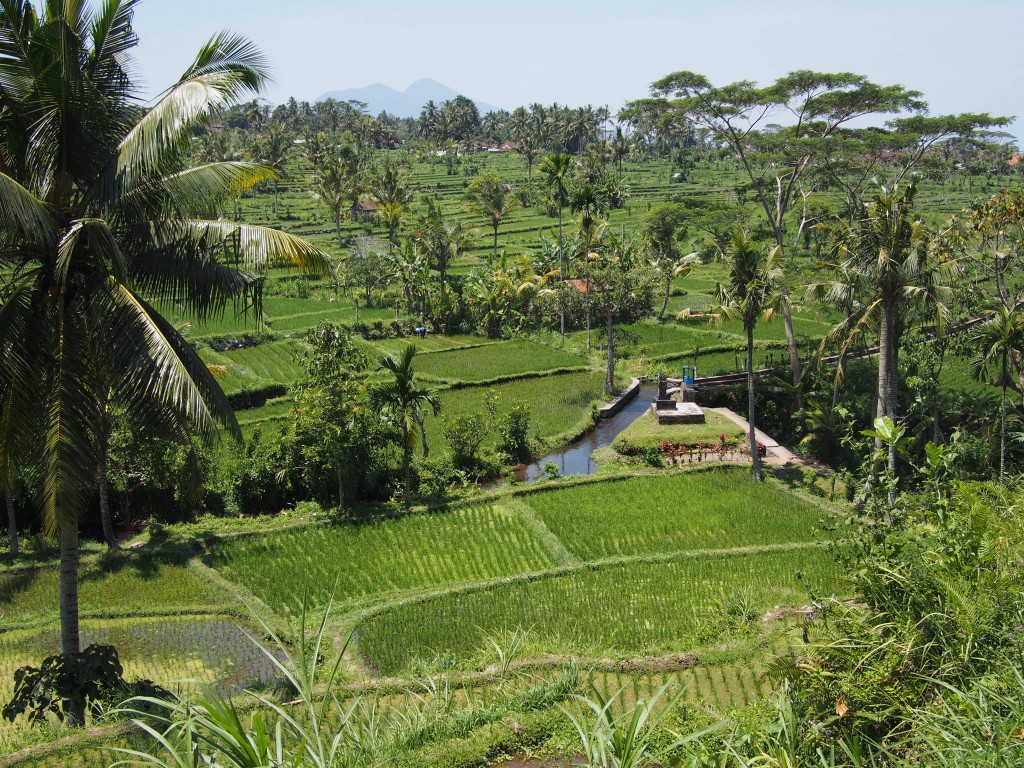 Moving on from Tirta Gangga and beautiful Sideman, we decided to check out Canggu, a small town on the southeast coast known for its surfing (and surfer-ish, granola heavy vibe). Brian took a surfer lesson on our first day there, but unfortunately there are no photos of the surfer dude in action, as his lesson took place some distance from Canggu on a more suitable beginner break. As with his last surf lesson a few years ago in Mexico, B returned exhausted and reported general success, but without a pressing need to do it again.  We spent the rest of our time in Canggu enjoying the beach and exploring the small "town" center.
The final highlight of our Bali road trip was Tanah Lot, the "floating temple," about 20 minutes away from Canggu.  The temple sits on a large rock that is completely offshore during high tide.  It's a beautiful spot, and is unusual enough to be worth braving the seemingly massive maze of souvenir stalls set up between the parking area and the beach.
We finished our road trip that same day, making the drive back to dreadful Kuta–fortunately just for the night– and saying a fond farewell to yet another trusty scooter.  The following day we headed off for what we thought would be three or four days of diving on the nearby island of Nusa Lembongan (spoiler alert: we thought wrong).