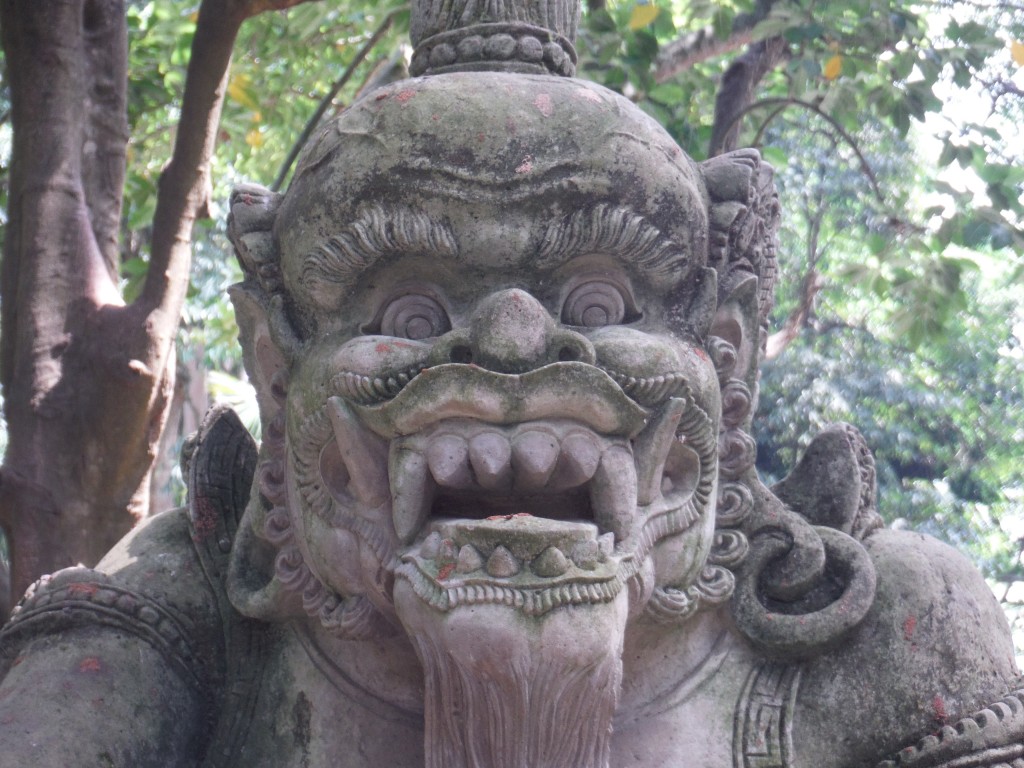 August 31 was a busy day.  We woke up before dawn in Pulau Weh and then took a taxi across the island, a ferry to Banda Aceh, another taxi to the airport, a flight to Kuala Lumpur, another flight to Denpasar, Bali (there are no direct flights from Banda Aceh to Denpasar, and routing our flight through Kuala Lupur rather than, say, Jakarta meant that our 30 day visa for Indonesia automatically reset), and yet another taxi to Kuta, Bali.  Even after all that time to adjust, the transition from sleepy Pulau Weh to crazy Kuta was abrupt.
When people talk about Bali as though it's the worst place on earth, completely ruined by tourists, I'm pretty sure they're talking about Kuta.  It's hard to walk more than a few feet downtown without encountering either a near-death experience thanks to crazy tourist scooter antics, a horde of loud, drunk, sweaty, sunburned dudes (usually but not always Australians), or only slightly surreptitious offers to sell everything from coke to hash to things we'd never even heard of (we are kind of old).  The streets are lined with overpriced, mediocre restaurants and souvenir stalls, music is blaring everywhere, and westerners are generally making a spectacle of themselves.
Sam and Anita traveled with us from Pulau Weh, and assured us that the rest of the island was much better.  We spent only two nights there, time enough to run a few errands and acquire a motorbike for a road trip around the island.  Any place that is that tourist-centric is a convenient spot to stock up on things like sunscreen (despite the sunburned people everywhere) and other traveler necessities.   We also made a side trip to the nearby town of Sanur, featuring several dive shops, where we picked up our own masks and computers for diving.
We then winnowed our belongings for the road trip– generally, we travel with two backpacks, a big one, and a carry on sized bag, as well as a daypack or bag as needed.  This is pretty light compared to many travelers and still leaves plenty of room for various comfortable-but-unnecessary items, but it wouldn't work out so well on a motorbike.  My backpack (the carry on size) fits very nicely into the front gap, however (between the seat and the front of the bike).  While we didn't know how long we'd be traveling for, we had a general sense of the (limited) things we'd need: Bali is hot, so no need for warm clothes, and it's predominantly Hindu, so much less need for Pulau Weh-style conservatism.  Yes to dive computers and masks; No to the laptop and shoes other than flip flops.  And so on.  We ended up with bathing suits, a spare outfit or two each, Kindles and cameras, and not a lot else.  We stored everything else at our hotel in Kuta, said a temporary goodbye to Sam and Anita– they'd previously explored most of Bali and were taking a shorter trip before heading back to Switzerland, but we tentatively agreed to meet up in the northwest a few days later– and set off on the afternoon of September 2.
Our first course of action? Leaving Kuta. We headed up the coast, past the still developed but  much nicer towns of Seminyak and Legian, and worked our way northeast until we reached the town of Ubud in south central Bali.
In its own way, Ubud is just as touristy as Kuta.  It's full of organic juice shops, art galleries and yoga studios catering to a certain type of traveler / expat– lots of dreadlocks, lots of westerners offering a blessing to their coconuts before drinking them, etc.  It's also a lovely place to hang out for a few days.  The town is concentrated around a few busy streets, with picturesque rice paddy-studded countryside surrounding it in every direction.  We stayed just outside of the busy part of town and enjoyed exploring, particularly in the mornings when it seems like every local is preparing an offering of incense, flowers, candy and the like for the tiny altars found all over the place.
Other highlights of our two nights in Ubud included the famous suckling pig at Ibu Oka, exploring the cave and surrounding woods at Goa Gajah, and temporarily setting aside my new monkey dislike (courtesy of Pulau Weh's monkey hill) to visit the temples located in the monkey forest.  The surroundings are beautiful there, and while it was sort of fun to watch the monkeys, it was more fun to watch the tourists– particularly those that chose to buy bananas and ignore the warning not to conceal said bananas in a purse or pocket.  The monkeys would not be deterred.
After two nights in Ubud, we headed northwest, climbing the hills of central Bali and enjoying the cooler air while we wound among the mountain lakes.  We ended up in the tiny, lovely village of Munduk– one of the highlights of the trip.  We stayed at Aditya Homestay (actually a small hotel– for some reason these are often called homestays in Indonesia– nevertheless it was home to an adorable dog and an adorable baby) and had a perfect view of the sunset over the mountains.  There are several waterfall hikes close to Munduk as well as farms growing coffee, cloves, and hydrangeas, the latter of which is apparently particularly lucrative.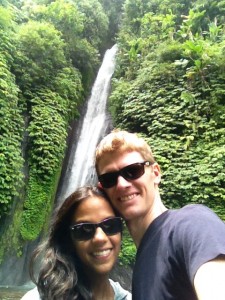 We could have spent several days wandering around the countryside near Munduk, but we pressed on the next day, focused on making it to the northwest in time to meet up with Sam and Anita for a bit more diving.  It was an easy drive down from the mountains and across a bit of the northern coast to reach the town of Pemuteran.  The town itself isn't particularly special.  It's an assortment of guesthouses and restaurants centered around the northern coast road.  But it's also the gateway to Menjangan Island and its incredible reefs, all part of the Bali Barat National Park.  We re-reunited with Sam and Anita there and enjoyed a few beautiful wall dives with highlights large and small– our first white tip shark sighting as well as pygmy seahorses.  The following day we said a sad goodbye to our friends as they headed off to do a bit more exploring and diving before returning to Switzerland.  We elected to stick around for a few days and complete our advanced open water course with a shop in Pemuteran, to give us a bit more flexibility in the dives we're officially allowed to do.  This included another night dive, practice with buoyancy exercises, and underwater navigation.
After the course was completed, we left Pemuteran and headed east along Bali's northern coast to Lovina.  Nice, but touristy and nothing special.  So we headed inland to Kintamani, a town perched outside of a huge crater surrounding the Gunung Batur volcano.  The drive was long and the roads were a bit challenging, but the scenery was gorgeous.  We traveled from the hot, arid northern coast to a foggy, somewhat chilly, hilly interior while passing villages, temples (there must be thousands of temples in Bali) and rice paddies.  We stayed the night in a hotel perched over the crater created by the volcano. Many visitors wake up at 3 a.m. to trek to the top of the volcano before sunrise. We were not really equipped (and also generally disinclined) to do this, but we did manage to wake up in time to catch the sunrise.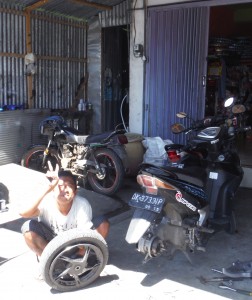 After breakfast we said goodbye to our hosts and set out… or tried to. Those "challenging" roads were more than our somewhat battered rental bike could handle, and consequently we woke up to a flat tire.  A short visit to a local garage, twenty minutes and about 5 dollars later, and we were all set.