On September 16th we said goodbye to Bali and set out for Nusa Lembongan, which is a small island just off of Bali's southeast side– it's actually part of the province of Bali but, as far as I'm concerned, it's a world away.  We'd planned for Lembongan to be a quick stop on the way to the Gili Islands (located off the coast of nearby Lombok).  We ended up skipping the Gilis and staying on Lembongan for about 12 days.  We loved it.
The trip from Bali to Lembongan is pretty easy– wade out to the speed boat ferry in Sanur, ride for 45 minutes, wade to shore, and that's it.
From my limited experience it seems like the community on Lembongan exists based on tourism (mostly), fishing (from which we benefited regularly at meal time) and seaweed farming. The coastline around the island is lined with beautiful sandy beaches.  However, most aren't for swimming or even sitting back and relaxing.  Just step into the water off of the majority of the beaches and you'll reach seaweed plots.  The seaweed plots are small squares in shallow, calm areas.  During high tide you can't see anything stakes sticking out of the water.  Farmers harvest seaweed during low tide leave it to dry on the shore.  I have no idea where it goes from there, but it makes for a weirdly beautiful coastline.
There are no cars on Lembongan island– just a handful of trucks used for passenger transport, deliveries, and the like, and motorbikes.  The island large enough that we rented a motorbike on the first day.  We used it to explore the island and neighboring Nusa Ceningan–which is connected to Lembongan by a entertainingly decrepit bamboo bridge–as well as to stay on different parts of the island during our extended visit.
The areas on the islands with the most tourist infrastructure are Jungut Batu and Mushroom Bay.  Jungut is the far more busy of the two, boasting the most of the hotels, restaurants, shops, dive centers, surf shops, etc.  Mushroom is a little more sleepy, so it was our favorite.  The tourist crowd tends to be less eccentric than that found on mainland Bali, and the locals that we met were friendly and laid-back.
One of the more interesting attractions on Lembongan is Devil's Tear which is an awesome coastline area.  A confluence of waves coming from different directions combines to crash against a rocky shore, which, due to the shape of the shore, creates huge explosions of water.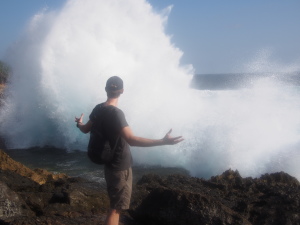 Aside from Devil's Tear, other tourist activities include a mangrove forest on the island's north coast, relaxing on beaches (Secret Beach is the nicest), surfing and, of course, diving.  Most of our time on Lembongan was spent diving (or hanging out with the people we met diving).
The dive sites in the area are beautiful, sometimes challenging (lots of currents!) and always full of really cool stuff.  We found a great dive shop, Blue Corner, to take us out for a dozen dives.  The highlights include seeing huge manta rays, around 6 mola molas (a.k.a. enormous sun fish), a pod of dolphins swimming underwater, amazing coral and other great sea creatures.  If you're a diver, this place should be on your list.
Note: Our visit to Lembongan happened before we purchased a GoPro for diving photos, so I've included some pictures and a link to a video compliments of Blue Corner's facebook page.
When we saw dolphins underwater we just happened to be diving with a videographer.  She took a great 15 second clip as they raced by.  Incidentally, it wasn't until this spotting that I realized how important it is to wear my contacts while diving.  While the rest of the group enjoyed a pod of dolphins, I enjoyed an ambiguous blurry disturbance in the water.  Oops.
We met a lot of great people on the island, some local, others travelers and many expats living the good life.  It was really interesting for us to see people who were high-achieving in their home country quit their jobs and choose to live in a place like this.  It's enough to get you thinking…
Why don't we pick up and move to Lembongan?  Maybe open a nice little bakery or bed and breakfast?  Because Bali doesn't allow ex-pats to bring their dogs.