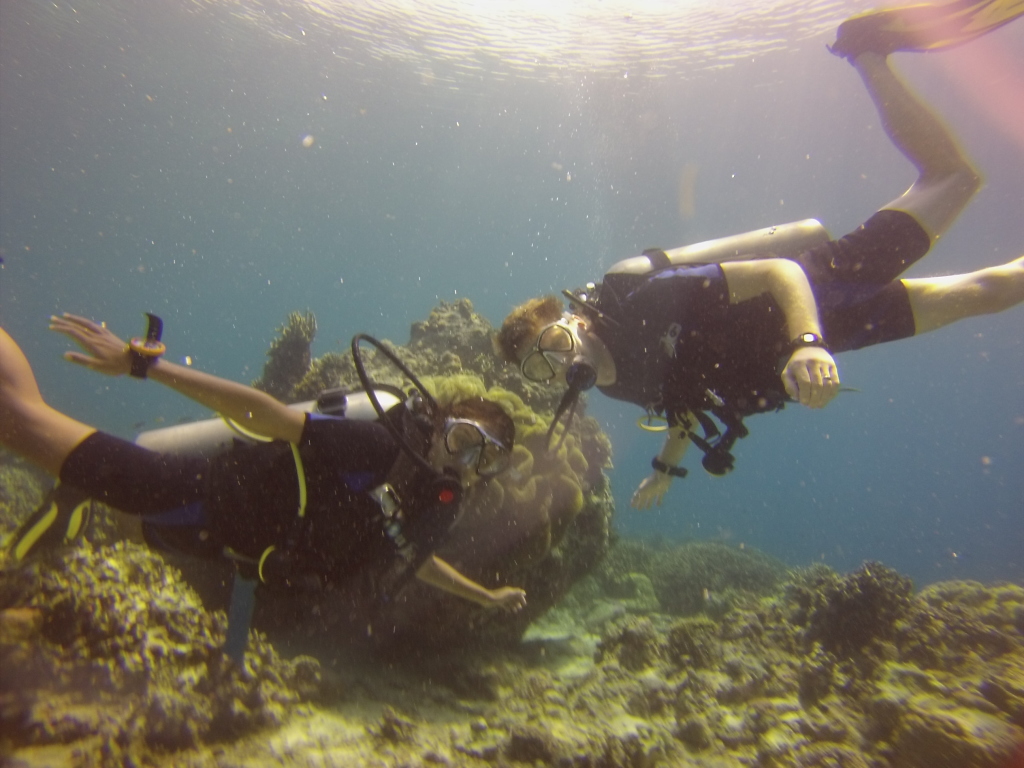 On October 15th we woke up at 5 a.m., took a taxi to the Chiang Mai airport, flew from Chiang Mai to Bangkok, then from Bangkok to Manila, and finally (after a few hours of delays) from Manila to Cebu City– arriving at our final destination at about 10:30PM.  One thing stands out from that exhausting trip: The Manila airport is a sad introduction to the Philippines.  From 2011-2013 Manila held down the honor of the worst airport in the world, only to slip to the fourth worst in 2014 (if that statistic sounds suspiciously nonsensical, I would agree, but you can check my source here). Regardless of the credibility of that ranking, it's pretty bad, and far from a pleasant way to start a new country.
Inauspicious beginnings notwithstanding, we set out for our first destination with enthusiasm.  After a night in Cebu City we took a bus to the port town of Maya on the northern tip of Cebu.  From there we took a ferry of sorts (a large fishing boat) to the island of Malapascua.
We made the trip for the diving– a friend recommended it because it's one of the only places in the world you can see thresher sharks.  Thresher sharks are notable due primarily to their body type– they are bug-eyed with a "thresher" tail which amounts to about a third of shark's body mass.  This trip was the trial run for our newest gadget, a gopro.  Rachel shot this video of a thresher shark on our very early morning dive at their feeding station.
Other than the thresher sharks the diving on Malapascua was unremarkable, and, as far as activities on shore are concerned, there's not much to do other than lie around on the beach.
After a few days we were ready to move on, so we boarded the same ferry back to Maya and caught a bus (lacking in air-con but with twice as many passengers) back to Cebu City.  From Cebu City we negotiated (well, okay, Rachel negotiated) a cab driver to take us to Moalboal, a small town on Cebu's west coast.
Moalboal's an unusual place.  For one, there are a number of male expats around with… well, with younger Filipino wives.  It's a little odd but everyone seems fine with the state of things.  At any rate, we had a lovely time there.  We stayed at and dove with a great place called Cebu Dive Centre– diving 3 to 4 times per day, we didn't do a lot else.
The best part of the diving was a large school of sardines right off the shore of our dive shop.  There were thousands if not millions of them in a massive school, which, if you swam under it, was large and dense enough to block out the sun.  If you've heard of something called a "sardine run" it's something like that but, because they weren't running anywhere it's was more of a sardine hangout. (They occasionally move locations but, between major moves, they usually stay put for a few months.)
And there were turtles.  Lots of them, and they were huge and delightfully curious.
We thoroughly enjoyed the Cebu Dive Centre–particularly hanging out with the U.S. born, British raised manager, Cameron and his wonderful crew–but after a few days it was time to move on.  On the 24th we took a bus from Moalboal back to Cebu City and boarded a ferry bound for Bohol.