On October 29th we bid farewell to Bohol and set out for the island of Palawan.  We started with a tricycle taxi ride to the pier; a ferry back to Cebu City; a taxi to from Cebu City's pier to the airport; a flight to Puerto Princessa, one of Palawan's major hubs; and finally a bus to our hotel.  After an uneventful (but nice) night in Puerto Princessa, we caught an early morning bus for 8 hours to our final destination, El Nido.  At one point there were chickens on the bus… live chickens.  Toward the end of the ride the aisle of the bus was impassable because farmers would get on with bags of rice and, having run out of room everywhere else, put them in the middle of the aisle.  It was uncomfortable and hot but pretty entertaining.
We arrived at our bed and breakfast, Treetops, exhausted.  Luckily, the hosts at Treetops were some of the best we encountered in the Philippines.
The thing to do in El Nido is go on an island hopping tour.  El Nido's bay is loaded with beautiful small islands shooting out of the ocean.  (It's somewhat similar to Halong Bay in Vietnam if that's a helpful reference.)  The islands are stunning largely due to their geological makeup: limestone cliffs which have been carved by acid rain to form landscapes that look like they belong in a sci-fi movie.
Each island on the tour offered different attractions such as hidden beaches, striking bays and good snorkeling.  Of course, savvy locals now offer tours of different groups of islands.  It was good fun.  We had a boat full of interesting people and a captain who liked to take pictures of the guests.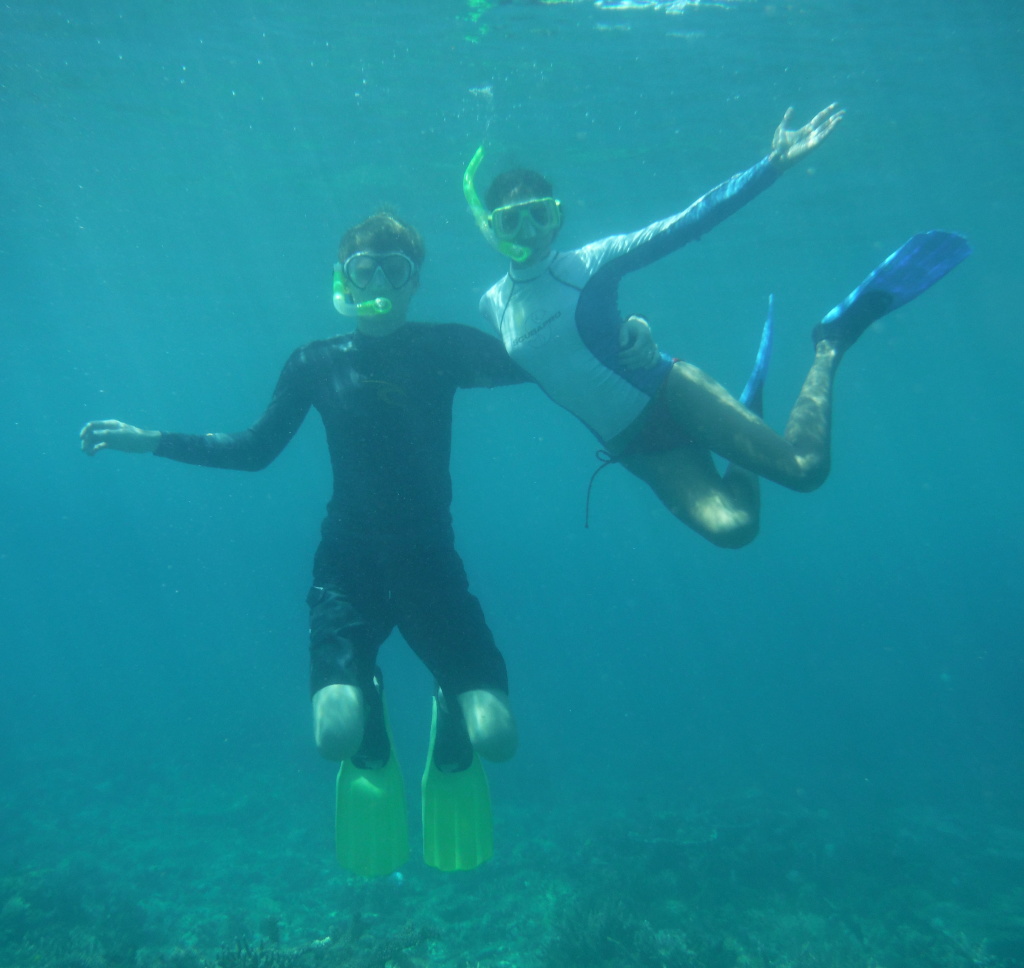 The rest of our time in El Nido we spent diving and relaxing.  The diving conditions were calm and beautiful.  The relaxing was done largely at a beach near our B&B.  The town of El Nido is expanding at a rapid rate so, for the most part, we stayed away from the town's center to avoid the noise and hustle.
That about wraps it up for El Nido which was our last destination in the Philippines.  At this point you might find it odd that we only spent 3 weeks in the Philippines and the 3 blog posts dedicated to those weeks are relatively short.  It's because the Philippines just wasn't for us.  We met some lovely people and saw some beautiful scenery there, but, of the many countries we've visited on this trip, it is our least favorite.  The food wasn't great, the travel was often exhausting…  Maybe it's because we were hot, tired and generally ready to move on after more than 4 months in Southeast Asia.  Who knows.  Maybe we missed something.  Or not.
In an effort to get some cool weather, orderly laws and transportation systems, and delicious food we chose Japan as our next stop.